New York City NYC Crochet Guild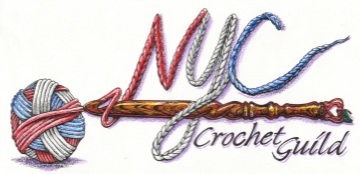 We are crafting a new website. We look forward to sharing it by the end of 2018.
Guild Meetings
All meetings are held on the first Thursday of each month at the Church of the Good Shepherd, which is located at 240 East 31st Street, between Second and Third Avenues (map). Doors open at 6:00 p.m., and the meeting begins at 6:15 and ends at 8:30. The first meeting is free for guests. We hope we see you there.
A typical meeting begins with announcements and discussion of upcoming events and activities, followed by an opportunity for you to show off your work. Then there may be demonstrations of a technique, or other activities such as yarn auctions or guest speakers. Follow the social media links below to see details of particular meetings.
Contact Us
(888) 549 - 8884
PO Box 4228
Grand Central Station
New York, NY 10163