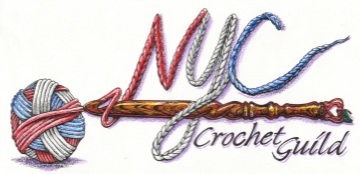 Items of Note:
Upcoming events
Next meeting will be held on Thursday, May 5th. This is our traditional UnSilent Auction, chaired by our own Irene Iannelli.
Ongoing: Chemo caps for charity. Join us at Citicorp on Wednesdays to drop off completed hats or to get help making one.
Upcoming: Tunisian crochet workshop with Dora Ohrenstein. Details and registration at the March meeting.
Please note that we have a new email address: NYCCrochetGuild@gmail.com (we've switched to gmail).
Please note that we have a new phone number. It is now (888) 549 – 8884.
Like our logo? Want to show your support for the Guild in a public way? Get Crochet Guild logo items at our CafePress store!
Crochet in Public meets on Wednesdays from 5.30 to 8 or so in the Atrium at the CitiCorp Building on 53rd Street @ 3rd Ave.
Shop at Amazon; shopping through this link will help the guild. Thanks!

Guild Meetings
All meetings are held on the first Thursday of each month at the Church of the Good Shepherd, which is located at 240 East 31st Street, between 2nd and 3rd Avenues (map). Doors open at 6 p.m., and the meeting begins at 6:15 and ends at 8:30. The first meeting is free for guests, so we hope we see you there. (See the membership benefits for more information).
Volunteers Needed
Volunteers are what make our guild run smoothly. Please contact
one of the board members
if you'd like to volunteer!
Latest Additions/Updates
05 May 2011 :
Contact Us
14 May 2010 :
Yarn Stores - New York and Elsewhere
: Yarn store information for New York City and the surrounding areas, including address, links to member reviews, contact information, and available discounts.
27 March 2009 :
Membership Benefits
27 March 2009 :
Membership form
22 January 2009 :
Bruges lace class
22 January 2009 :
Lily's Bust Dart class
10 July 2008 :
NYC Crochet Guild Executive Board for 2005 - 2006
29 January 2008 :
NYU workshop
03 January 2008 :
Fiber Events
03 January 2008 :
Guild Calendar
03 January 2008 :
Crocheting Sweaters from the Top Down with Lily Chin
03 January 2008 :
Crocheting the NY Coral Reef
08 April 2007 :
Limpets
08 March 2007 :
Radical Lace and Subversive Knitting
08 March 2007 :
Designing and Sizing Sweaters